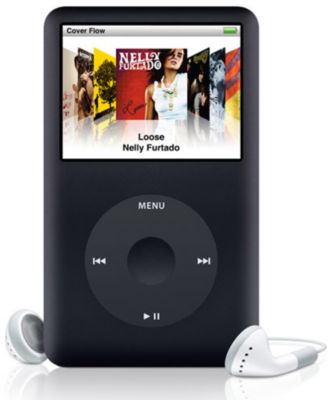 Key Features
-Storage Capacity 80 GB
-Screen Size 2.5 in.
-Average Battery Life 20 hrs.
-Max Battery Life 20 hrs.
-Memory Hard Drive Size 80 GB
-Power Battery Life 20 hour(s)
Recharge Time
-4 hour(s)
General Product Info
-Weight 5.5 oz
Manufacturer's description
With enough room for your favorite music and video, this iPod has both sound and vision. Of course, it also boasts stamina (up to 20 hours of battery life), generous capacity (30GB or 80GB of storage), a great personality (intuitive, customizable menus), and a touch of genius (the Click Wheel). In other words, iPod makes an ideal companion. Why not get to know it better? Click on a feature to see it on the new iPod display, then read about it here.
Now up to 20,000 songs
Put your entire music library into your pocket. Plus carry movies, TV shows, videos, games, podcasts, audiobooks, photos, and more
60% brighter display
Your album art, videos, photos, calendars, and now games will come alive with vibrant color thanks to the 60% brighter display
Up to 20 hours of battery life
Enjoy up to 20 hours of audio playback or up to 6 ½ hours of video playback between charges
Now quickly find the songs, podcasts, or audiobooks you want to hear with the new search feature. And listen to music seamlessly with automatic gapless playback
Price: $ 348.99- $ 589.62